CLOUD STORAGE • BACKUP SERVICES • BACKUP & DISASTER RECOVERY • DATA CENTER COLOCATION • DATA CENTER MANAGED SERVERS • HOSTED CLOUD SERVICES
We can help your organization meet today's service-level demands using our high availability and secure data center to support the objectives of your growing enterprise or governmental agency.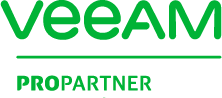 Our goal is to provide superior data protection and availability services for your growing business.
Unparalleled Network Connectivity
Our backbone connects from our custom built data center in suburban Chicago with traffic on our own fiber optic network to the Lakeside Technology Center (350 East Cermak) which is a 1.1 million square foot multi-tenant data center hub owned by Digital Realty Trust.
350 E Cermak is one of the largest data center facilities in the world with more connectivity than any other facility in the Midwest. Urbancom maintains hardware at our 350 location allowing connectivity to multiple Tier 1 carriers.
Additional redundant network connectivity is maintained on our own fiber optic network to the Zayo Z-Colo Data Center facility in Oak Brook, IL where were we also maintain additional switching equipment for carrier connectivity and data backups to provide a robust fault tolerant network for our customers.
Customers use Veeam Worldwide
Fortune 500 Companies use Veeam
Urbancom support
US Based
Security is not just a word at Urbancom it's our passion. We constructed our Tier III+ data center with additional redundancy which guaranties 99.999% uptime reliability. Our physical facility uses Biometric palm scanners, HID card access and HD cameras to protect and monitor access to the facility. Our network is monitored 24/7 to ensure maximum uptime. Network traffic is pro-actively monitored to ensure our fiber optic links to the outside world are working error free. Routine security audits are conducted to ensure a secure network. Our center is designed to meet all requirements of SOC 2, HIPPA and PCI.
Have Questions? Get Answers!
Send us a message to schedule a free consultation and get a demo and a quote.
We will reach out as soon as possible during normal business hours.